As out of a movie from the 70's the French designer from the French maison Lanvin, Lucas Ossendrijver, has managed to create a versatile man in his AW 11-12 collection. Without effort he is able to combine nostalgia for the classics with a modern flair. He sees elegance in a different way, suspended between past and present.
The designer of this men's label opts for maintaining a very refined and neat line in his new collection. Tailored garments mixed with other more informal ones, presenting a stylish tailored, casual and seventies-retro inspired look. Undoubtedly, this is a collection where layers, contrasts, blends and combinations are the "aces" in the deck of cards.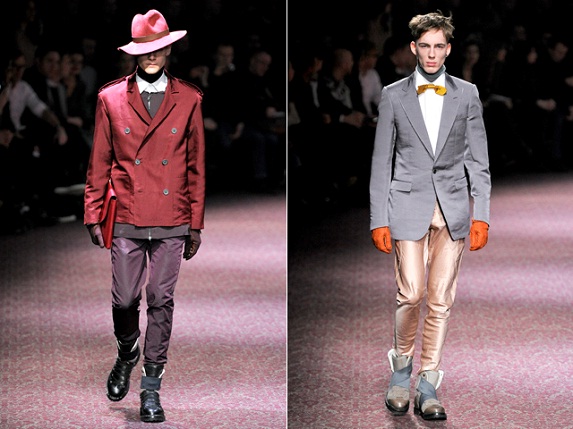 This AW 11-12 the suit jacket and double breasted blazers triumph combined with white shirts and ties or bow ties. The final touch is given by the high-necked sweaters and an assertive look topped by a tilted fedora hat with wide brim and fabric gloves.
The designer is committed to solid colours. From earthy and raw tones, to a wide range of grays, dark blue almost black and trendier shades like burgundy, tile, yellow ocher or off-white, joining the latest colour blocking trend.
Lucas Ossendrijver's inspiration from the hunting world led him to make the bomber jacket and the trench coat the protagonists of the collection as well as knitwear, tweed or cloth material mixed with other less conventional materials such as nylon. Being a good hunter he could not forget the oversize backpacks with a totally adventurous spirit.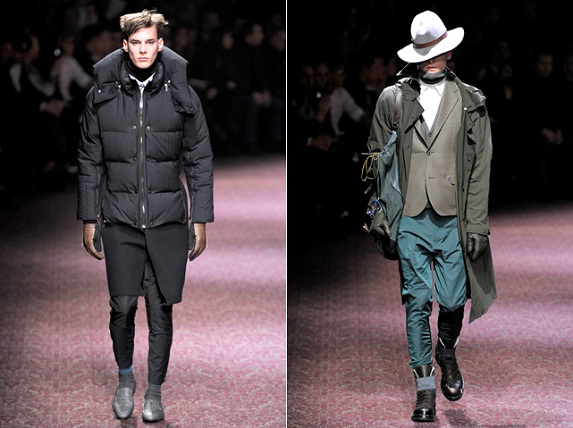 Do not miss the new AW11-12 men's collection by Lanvin!