As Sylvia Quintero, chef at the Café Santa Eulalia, told me: "we do not want to have a Michelin star, we are focused on proposing light meals and sweet snacks for a fantastic shopping day in Santa Eulalia". This is the philosophy of their coffee, where I had the opportunity to try delicious care dishes.
Google+
This Venetian firm, which has always stood out for its high quality craftsmanship, comes back to Santa Eulalia again. This time with a more feminine side with its mythical leather bags "Intrecciata". Tomas Maier, Bottega Veneta's creative director, is aware that the style of the house he represents is synonymous with every day luxury. "Bottega is real" he says.
Perhaps this is another of the magic potions, along with discretion and quality that consolidates the firm at level it is today, enjoying the respect and admiration of clients all over the world.
Google+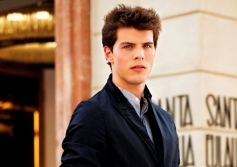 Don't go out this spring without that chic detail that puts the finishing touch to your outfit. Roll up your trousers! It seemed like the fashionistas were already quietly suggesting that it would be the next trend and little by little we could see them with the trousers rolled up in the various meetings of the fashion world. But now we can really say that that an "it" has been born. What better showcase for fashion than to go out and look at outfits!
Google+
There are three things I usually do when I'm in Barcelona; I stroll down the Ramblas, I eat great food and I go to the cluster of temptations in the form of a store called Santa Eulalia on Paseo de Gracia. So logically, when I was invited to spend Friday afternoon there I did not doubt for a moment but went there with my camera.
Google+