The best things in life are free: a sunset, a friend or a hug.
But some of the best things are very expensive, like the photography "Dovima with elephants". It was sold for 840,000 € at an auction. An obvious reality of the fact that fashion photography is one of the most characteristic economic phenomena of our time.
It is undoubtedly the most famous Avedon photos but not one of his favourites. The photo dominated his studio until the end of his days. It's the most reproduced fashion photography ever.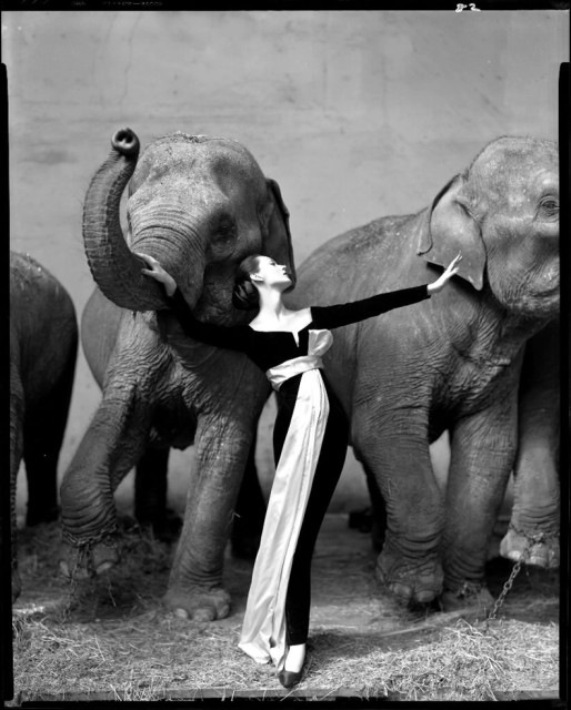 As recently as five years ago, only the German Horst P. Horst, one of the pioneers to immortalize the world of fashion, could boast of having carved a niche among buyers of collection photography. More recently, names like Newton, Penn or Avedon are doing the same.
The model Dovima poses between two elephants wearing an elegant evening gown by Dior, the first evening gown designed by the late Yves Saint Laurent. So there is no wonder that it was the maison Christian Dior (LVMH group) that purchased the work. "A unique piece that will stay in France, almost like a national treasure", says a representative of the "house".
A few years ago at a photo exhibition in San Francisco with photos that Richard Avedon had shot for Harper's Bazaar in the 40's and 50's, there was a big reproduction of his Dovima photo. He came and said "the connection is not good", and this came from the mouth of a man who along with Irving Penn are the masters of fashion photography of all time, "I should have left the right leg of Dovina out of the picture" he said.
Avedon was one of those men who defined not only modern photography but also a complete cosmology according to the philosopher Barthes.
The atmosphere of his studio was energetic. It had cadence and rhythm. It didn't have seizures, it shivered. The atmosphere of the photographer, the man who developed frozen works of art; it was not an atmosphere of inert time standing still, stolen from the clock. It was a calm atmosphere, atmospheric, a moment of frozen energy that causes emotion.
The photograph will go down in history of photography not as the most expensive, but as one of the most beautiful.