"Nature does not know history but in its own way it is living every style of the past, present and future. Nature is more abstract than figurative." Octavio Paz.
"Nature, abstraction and time."
The history of minimalism and natural art would not have been possible without patrons like Philippa de Menil and her husband Heinrich Friedrich. The American space is sown with works of artists funded by the Menils. Their fortune comes from the bowels of the earth (oil) and their patronages goes to the earth as well (land art), today called environmental art. In addition to "in situ" works, the Menils have brought about some of the best art venues in New York.
Dia Art Foundation in Manhattan has been an inspiring presence and the style reflects the light elegance of the benefactors' minds. Good art, modern art, distinguished art and architecture designed to house it. The main building on West 22 Street, became the "MoMA for the experts" and in its shadow were all the great galleries. At Dia, the focus has always been on the art and not in the way in which art is packaged. Minimalism, Conceptualism and land art would not be the same without Dia.
Three years ago Dia closed its doors in Chelsea to move to the Meatpacking District, another place that certainly has been upgraded. Its exhibitions, which mark the course of contemporary art, take place at The Hispanic Society.
But besides these mythical sites, the Menils have made specific works possible and they have been able to keep them secret: New York Earth Room and Broken Kilometre in Manhattan and The Lightning Field in New Mexico, the three works of art by Walter de Maria, The Dan Flavin Art Institute in Bridgehampton and the Spiral Jetty in Great Salt Lake by Robert Smithson that was included among the wonders of the world.
Works that with their complexity go beyond the intrinsic mechanism of collecting. In two different places in SoHo Walter de Maria has, for over 30 years, kept two installations that are visited by a very small audience and are part of the idea of the father of Dia.
Places and works of art with many visits by a few number of people, places that people come back to over and over again to see the same thing, through the same or different eyes, to be touched by the work again.
But his conception involves more than that: the installations are almost like chapels; functional but sacred places where the repetition of visits is dictated by the idea of pilgrimage, the motivation that leads to such a visit again, where art becomes a place. New York Earth Room (1977) in SoHo is exactly what its name implies: a room in New York filled with soil. It consists of 250m2 of soil. The room is regularly cleaned to avoid mould and other organic intrusions and it is solemnly accompanied by a couple of employees.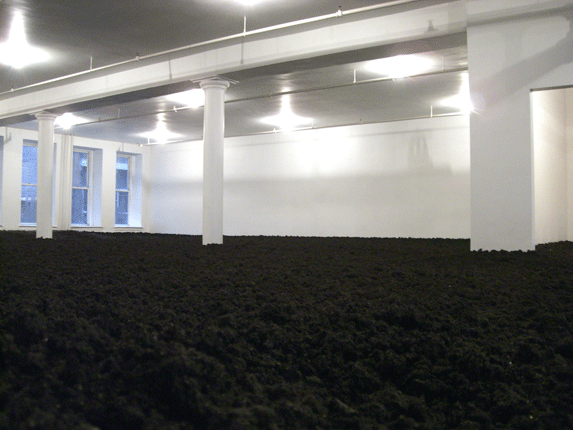 393, West Broadway
N.Y.C.Another artwork is The Broken Kilometre (1979). Its title graphically reflects its meaning: a kilometre divided with 2m long and 5cm wide polished brass rods placed in five parallel rows with 100 rods in each row. For many years now, behind the doors on two streets in SoHo, you have been able to find two installations that change the perception of space and time. Nothing is of any particular place, and yet, a project only makes sense in a place. A must for those who accept gifts.
141, Wooster Street N.Y.C.
Photos Courtesy of Dia Art Foundation