Itfashion, one of the first online publications, is an independent fashion magazine considered to be a point of reference. It was founded in 1999 and was reviewed in 2002 along with showstudio.com, hintmag.com and Vogue Japan in the book "Net Mode Web Fashion Now". Several newspapers and TV programs like SILENCI? and EL MUNDO have made comments on itfashion such as "The best online fashion magazine" or "it is a glorious exception in the blogosphere…" respectively.
Its editor Estela Vilaseca has worked with high-profile websites like Style.com and Fashion.net as well as worked as a fashion editor at Neomoda.com among others. She has also worked as online art director and editor at companies such as Stradivarius and Mango. Today she reveals her inspirations, tips and details of future projects.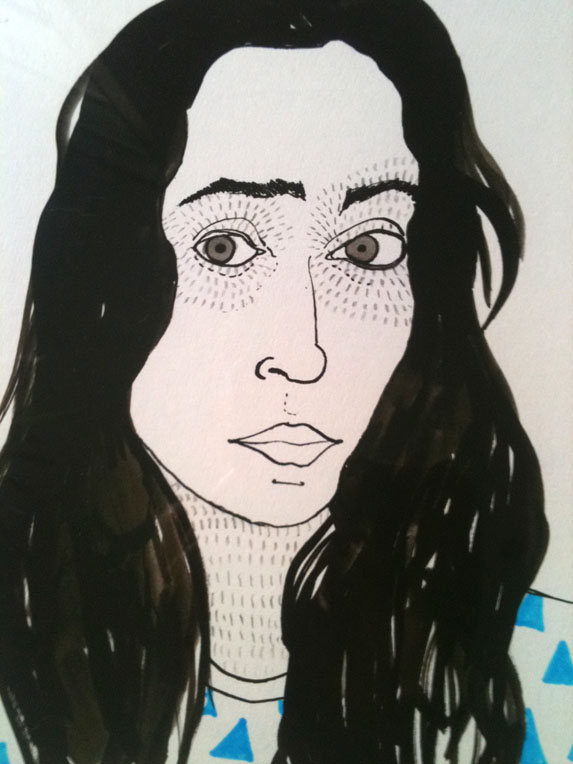 Where did the idea of creating ItFashion come from?
Since I was very little there was something in fashion that attracted me. Recently my mother found some old drawings with pretty horrendous dolls but, they all wore bags signed "Christian Dior". The funny thing is that my family is very humble and totally anti-brands and the only contact we had with fashion was through Vogue magazine that my mother bought. She has been a teacher in La Massana for her whole life and was interested in fashion as an artistic discipline, and I have to confess, as little girl I was seduced by the world of luxury and fantasy. When I was twelve, my best friend and I made our first magazine and spent a lot of time collecting Chanel, Yves Saint Laurent and Armani ads… When I discovered Internet in college in 1998 or so, I immediately saw that this was the way to go. Especially because of the fact that this new publication channel allowed me to self-edit from home without any financial cost… so I spent all my free time to learn the web language to create a product as similar as possible to what I admired and liked.
What was the initial purpose ITFashion? Do you still keep that same goal or has it evolved?
In one of the first pieces I wrote about "it fashion" for a grant that we were not given in 1999, I wrote: "One of the key objectives is to turn the magazine into a platform for innovation, for everything new related to the world of fashion: new designers, photographers, art directors…" "We want to get closer to the user, their interests and motivations in a matter as ambiguous as fashion. Getting in touch with its essence from the street and the everyday environment everyday people. This is a publication that looks to the future and these new proposals that have no place in mainstream publications"…Considering that this was written 12 years ago I myself am amazed at how clear it was… as the goal remains the same.
What do you consider to be the key to a successful online magazine?
It is difficult, because I think "it" still has a long way to go. I also think that our content, more related to the artistic vision of fashion than the garments themselves, connect easily with other countries and cost more to be understood and accepted in Spain. Here fashion is more linked to celebrities and is usually more superficial… so I don't mind to slow down, because I think it is really important to create a fashion culture for people to appreciate its value. We must help to make new designers known. Many of them are very creative, interesting and hard working. We appreciate local fashion craftsmanship and sustainable proposals in harmony with the world and the moment we live. Fashion may be frivolous, but it is also a vehicle of communication that directly connects with reality.
Who has been your biggest influence when it comes to work and why?
When I was younger I admired big designers like Armani and Lagerfeld. The magazines The Face and I-D were also big factors in the nineties with their energy and connection to the world of the street and the most creative fashion. Photos by photographers like Herb Ritts and Peter Lindbergh covered my walls. In Barcelona I cannot forget the ABarna magazine, Punto H, or Suite. People like Alexey Brodovitch, Diana Vreeland, Fabien Baron, MMParís, Marc Ascoli, Marc Atalan and Carine Roitfield have been great inspirations. Although the list is endless… I've always liked a polished, clean, minimalist aesthetic. One of the websites I most admired in the beginning of "it" was Issey Miyake's. It was beautiful and very ahead of its time. They were the first ones who thought of cutting out the silhouettes from the catwalk. Professionally, my years with Jordi S. Belda at Dresslab and Martin Cespedes and Cristian Borillo at Hunter&Gatti have been very important to assess and work with fashion from multiple and rich perspectives. Although my dream has always been to be the editor of a magazine, I have combined this work with being a designer and art director. So let's say I've done a bit of everything: catalogue layout, design photo shoots, designing web pages, create animations, editing magazines for fashion companies… I think all this hard work has helped me a lot.
Could you tell us one of the most important lessons you've learned over the years as an editor of ItFashion?
In fact, there are many. I have learnt to be patient, because "it" is a long-term project so I need to slow down in order to achieve a distinct personality. I also learned that I can't hide behind the screen no matter how many hours, effort and good ideas I put into it. Social relationships, contacts and learning to communicate your own projects are also very important to reach more people.
How would you describe an "itfashion" person?
The readers of "it" are enthusiastic, curious and very knowledgeable. We have a lot of readers that are people in the industry: fashion editors, stylists, photographers, teachers and students… There are also people that are not as passionate about fashion who like to drop by at "it" because they find stimulating and creative content. They continually challenge us to improve and are our reason for being. And although they are quite shy and quiet, they don't comment much, we know they are there thanks to lots of likes and some private messages they send.
What does Diana Vreeland's phrase "The only elegance is in the mind, if you have it, the rest comes will come" mean to you?
That style has more to do with intelligence and culture than with money. No matter how much money you have spent on the clothes you wear you not will automatically become an expert. I think it's important that people understand that books, movies, photography, music and art are a great complement to the wardrobes of people we consider elegant. So at "it" we like to talk about all these accessories that adorn the body and mind.
Which garment will never be lacking in your closet?
Shoes. I've always thought that good shoes complete any outfit. I also like to buy clothes in second hand stores and invest in young designers.
What future projects do you have in mind?
We are now working on a new design for the magazine and a bilingual edition of it which we will launch next season. I feel we have to surprise people again.
After more than 10 years in the online world, what advice would you give to bloggers that are now entering this world?
That it is very important to seek a voice of their own, to socialize a lot and to publish quality material. There is currently such an explosion of blogs that only through being different will you be able to distinguish yourself from others.