Albert Elbaz is the name behind the new face of Lanvin, the oldest extant fashion house worldwide founded 1909. The 47-year-old designer was born in Morocco, grew up in Israel, cut his teeth in New York assisting Geoffrey Beene, and spread his wings for a while at Yves Saint Laurent, before coming into his own at the helm of the almost-forgotten French-label-that-could for the last eight years.
His economy of cuts and silhouettes, his simplicity of form and his generosity in thinking about shapes and sizes that are wearable on countless occasions are what single him out as a genuine realist over simple shock-and-awe maestros. A simple, feminine and smart clothing style lauded all over the world that won't ever go out of style.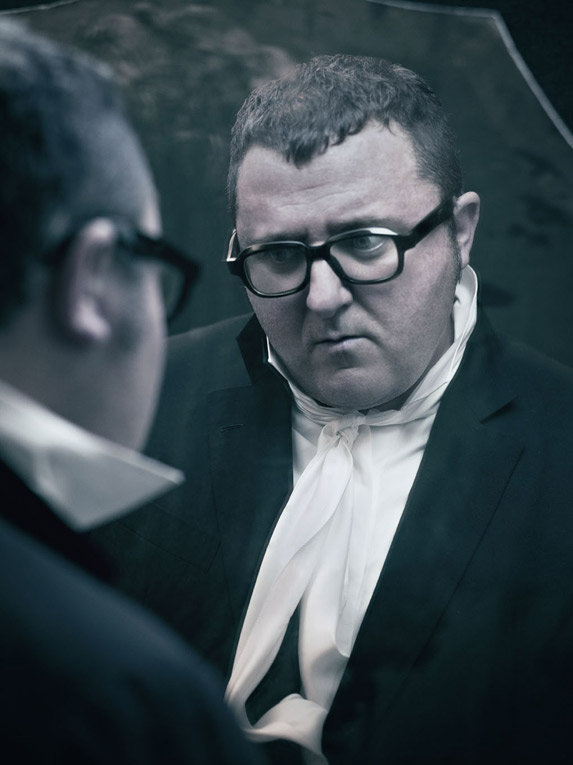 What should today's fashion bring to our society?
For me, the aim of fashion is not just to dress someone, it gives a feeling of happiness too. When you are depressed, what are you doing very often? You go shopping. It is true that it is not easy to express your delights in these difficult times. Fashion helps us to declare them. Sweet things, here are what we need! And I think it is necessary to come back to the essence of things with strong directions. Fashion is about touching people.
In your opinion, is modernity synonymous of breaking or evolution?
I have only one definition of modern – emotional. Today I want to have an emotional dinner I don't want to speak about the weather. I know what it's going to be like for the next 10 days. We have the Internet. I don't want to go to a movie and see people jumping. For that I have the Olympics. I want to cry and I want to laugh, but I don't just want to see people jumping. With clothes, it's the same thing, it's all about emotion.
Which are your sources of inspiration to design?
I start each collection with a blank page which is the most scary part of the work. I need a story, I need to dream to start filling the white pages with women I know and women I want to know. Design is all about the process and having the creative freedom to experiment with new ideas, new technique, and not afraid to make mistakes.
I always hate the idea of being asked "What is the inspiration?" It's such a tricky thing. But I know that the inspiration is the tool of a designer. We use it as the starting point. And then if you don't see where it's coming from, I think that's wonderful because I always say that I am a policeman at a crime scene, that I have to take all the evidence out.
When you started to work in Maison Lanvin, did you have freedom to design its collections or did you have to follow some rules in order to maintain Lanvin's DNA?
Those codes are extremely feminine. We do not protect a tradition but an inheritance. I am delighted to have the inheritance of the Maison Lanvin. When I arrived, I quickly seized the essence of collections created by Jeanne Lanvin : desire, that is I have wanted to put in the collections, I continue the story. A fashion designer has to make people dream, and that is the most difficult. My work at Lanvin is an evolution not a revolution.
Is there any kind of formula to foresee the success of a collection?
I wish I had a formula but I don't. eache time, each season is never like it was before. It's just one of those things that you just do. I think that women that are wearing the clothes, first they feel beautiful; secondly, they feel comfortable; third, a woman told me that every time she wears Lanvin she falls in love, so maybe they want to be in love… fourth, our clothes don't steal the faces of women. When you wear them, you still see the face of the woman and not the dress that she is wearing.
In your opinion, which is the most eminent designer in the XX century, a part of Jeanne Lanvin?
When I started at Lanvin, I tried to place Jeanne Lanvin in comparison to the four or five dress designer at that time : Madeleine Vionnet, Madam Grès, Elsa Schiaparelli, Coco Chanel… Vionnet, it was the construction ; Madam Grès, the technique ; Schiaparelli, the creation with artists ; and Coco Chanel invented marketing with a great talent. The logo of Jeanne Lanvin tells us everything. It represents Jeanne with her daughter, which evokes a very feminine story, an emotional and familial relationship.
What role do blogs and social networks play in spreading fashion news and trends?
I have to tell you, I love bloggers. And I'm not telling you that because I'm trying to bribe them. Every morning I wake up and I see the blogs. There is something very innocent. There is something very honest. You can say, OK, they didn't have the experience of seeing things. But again it's another medium. That's their opinion and it's interesting to see how politically incorrect they are. Of course, when they say, "Oh my God, I love it," I'm extremely happy. And when they say, "Oh my God, it's a piece of shit," I hate it…We are living in an instant society, so everything has to be quick and everything has to be big and everything has to be now. And I think this is also a reflection of society, so it's not something that we can sit and judge and say, well, I think it's right or I think it's wrong. It's the reflection, the mirror of our society, and [the same applies] to what we are doing.
Do you believe in selling luxury articles by internet?
Of course I do! That's why we launch an e-boutique for the USA on September 2010…
Paris, Milan, New York ¿In which of these three cities the people are more fashionable?
There is no one person that I am designing for. I want to evoke emotions and touch beauty. I am trying to introduce this beauty in a modern way, and am adding comfort to that. You can't manage without comfort in this day and age. I don't believe in the phrase "different markets"I dress women and I work for women, all the women, blonde or brune, black or white, young or old, fit or oversize. There is a universal approach. And all these women from all over the world write letters to me which I keep. It is like you could tell the story of my life and my work through these letters.
What other creative disciplines interest you?
I am like a sponge, everything inspire me, but most of all, people inspire me.
When you dress, do you give importance to the accessories?
You know, I don't work on commission, so you know I just want to make more people beautiful and happy, that's my goal. I love accessories. I put the same passion and attention on designing the bags, shoes, jewels, etc. as when I create our ready-to-wear line. I am very proud of our accessory department because it grows season after season.
Could you give us a small advance of a trend for next season?
I am very superstitious!!  You'll just to wait and see!