Anna Piaggi is a trendsetter. Her flamboyant style is baroque and her talent for detecting trends is accumulated in her way to dress. Mixing styles is difficult but Anna is a book with many pages. For this special woman "more is better". Sheis more than known by all who attend the couture shows.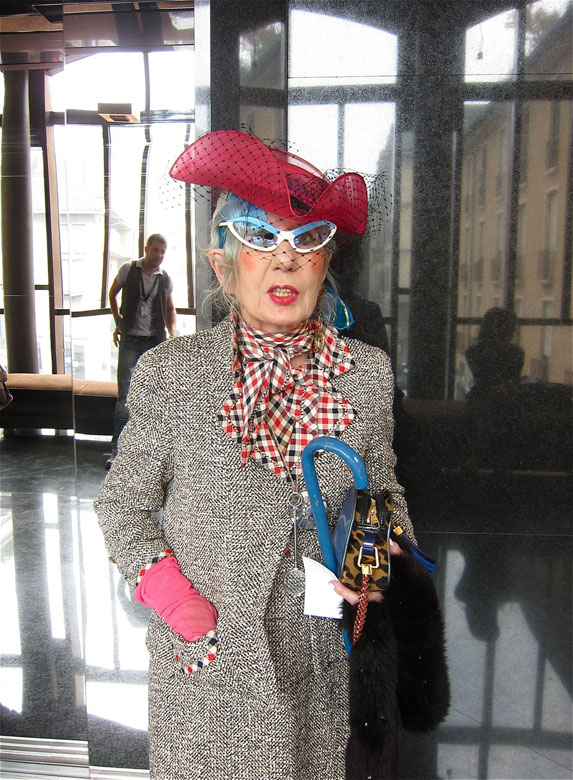 She is a legendary fashion editor of Italian Vogue and her appeal does not lie in her beauty but her high self-esteem. Heir to other "ugly-attractive" celebrities, she has chosen to be extravagant. And it's curious because in the pages of Vogue she theorizes about the always ambiguous word "good taste".
Manolo Blahnik says she is the "ultimate global authority on fashion" and "dressed to entertain other people". Which is always appreciated.
She never wears a garment twice in public, she only wears Chanel bags and she never leaves the house without a hat by Stephen Jones. She likes to be an evident mystery and is of the opinion that a hat, a feather, a cage with cockatoos or an attractive umbrella can transform anyone.
Anna Piaggi has chosen extravagance before the boring elegant style, making all the priests of fashion and design depend on her and what she dictates in the magazines. Her aesthetic codes (surely the ethical as well) are radically opposed to the ladies to whom her texts are addressed.
Anna Piaggi is an essential figure, one of the few fashion editors around in the style of Polly Mellen, Liz Tilberis and Vreeland that admired a job well done and had a great eye for discovering emerging talents. Piaggi said in an interview that her only diet is pasta, that she only wears Chanel handbags, and that for work, as she is working from home, she wears a Galliano dress with newspaper print.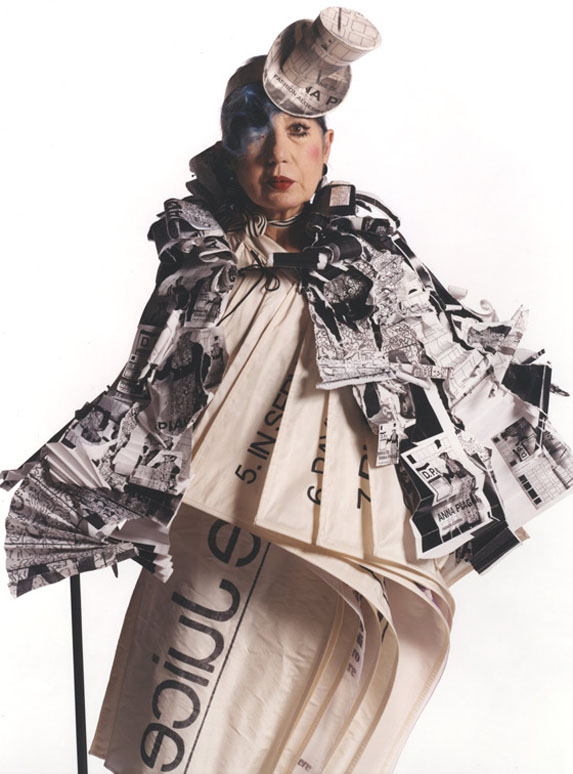 Her friends include all the great ones of fashion, from Vivienne Westwood to Galliano and Lagerfeld.
She is the creator of the magazine Vanity and has since the 70′s been writing and illustrating two pages of Vogue Italia in the form of a collage on emerging trends that she hand-types on a red Olivetti. Piaggi has an incredible instinct and the catwalks tremble with respect. A year ago the Victoria & Albert Museum in London held an exhibition in her honour with pieces from her personal collection (he own over 3000 dresses) with works of designers that she bought when they had just started.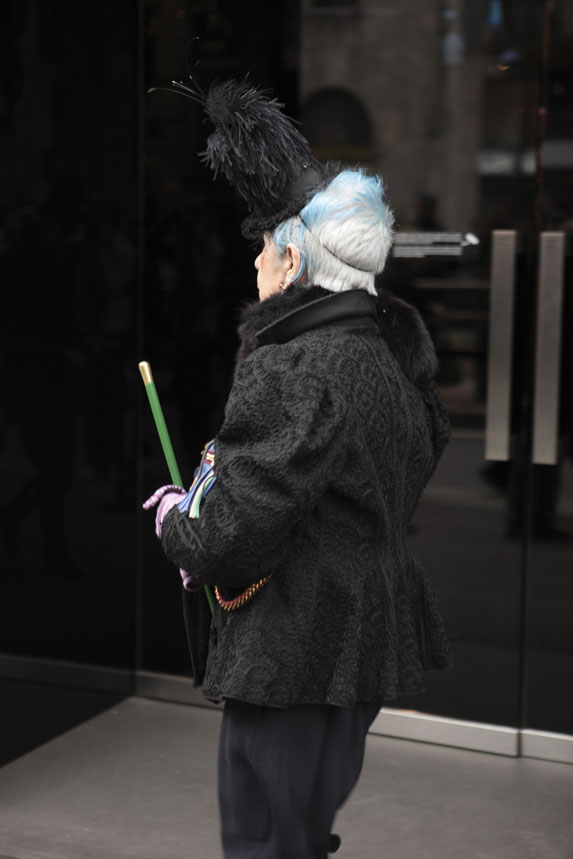 The hottest places in hell are reserved for those who maintain their neutrality, Anna Piaggi says that dressing neutral is easy, but should not to be confused with elegance. Her motto is the cliché of "everything is in the mix".
It is a question of staying ahead of trend; we must wear everything to extremes as Piaggi does, admired for being daring and able to manifest herself in a surprisingly strident way.
Piaggi's personality is fascinating and unpredictable; she is able to dress under both the British and Italian flag. To be different you have to think differently. Having humour is synonymous with elegance.