During the New York Fashion Week, Tom Ford presented his first women's collection since he left Gucci and Yves Saint Laurent in 2004. The event has been talked about for several days all over the world despite the fact that only a hundred people saw the collection, it was prohibited to take photos and images of the clothes have not been distributed. But not even a control freak such as this American designer can prevent leaks.
The spring/summer 2011 collection will be out in Tom Ford´s own stores from February. Next season (September 2011) the collection will also be available at Santa Eulalia and in selected department stores such as Neiman Marcus and Bergdorf Goodman. In principle, there will be no more fashion shows (certainly not like this one anyway) since it will work in the same way with the menswear collection, which will not appear on the catwalk neither.
The photographs of Terry Richardson and his team will be on the website in December, along with a short film made from the total footage. Clothes will not be lent to famous people until December and will only be published in magazines from January.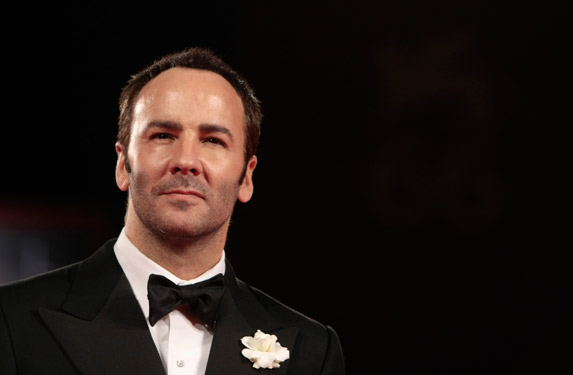 With all this, Tom Ford is rebelling against the hysterical immediacy in fashion that has been created because of live fashion shows and the rage for instant purchase. It is a debate that has been open for months. In an interview published in WWD, Ford declared: "This is how the system works: you show the clothes and in one hour they're online to be seen by the world. But they do not get to the stores until six months later. Within a week, the famous wear them out at parties and in all the magazines. The consumer is tired of the clothes once they come to the stores. They have lost their freshness. Moreover, these fast-fashion chains (which do a great job, btw) copy everything. In three months you can see the clothes everywhere and when they finally arrive in your store, what's the point? "
Although this first women´s collection has themes that run through it like a red thread such as the marked waists, suits with seventies style trousers, tight skirts below the knee and soft blouses, each set is designed and made to fit the woman who would wear it. The message: fabulously luxurious clothing for women of all ages and bodies. "It was like making a movie based on the personality of each woman. They were like amplified versions of themselves."
The clothes are just as elegant and glamorous as they are wearable. They are very sexy, vaguely eccentric and often topped with red lips and nails, exaggerated gold jewellery, hats and big hairdos. As Ford said in the interview in WWD: "There are designers who are artists. But what I do is commercial design. I want to make beautiful clothes for men and women who appreciate the detail and quality. I did not see that anywhere and I wanted fashion to be fun again. The fun has been lost. People need to laugh at themselves. Fashion should make you enjoy life."