Entering the Mandarin Oriental has always made me feel good. A few steps up its majestic ramp that leaves behind the hustle and bustle of Paseo de Gracia and I already feel immersed in a different world, in the contemporary, serene luxury created by the clever magic wand of Patricia Urquiola. Pure harmony, not a touch of rowdiness or a hint of ostentation in the form of too much gloss or a badly drawn curve. Even the corporate aroma, sensual notes of amber-like resonance, is in perfect keeping with the elegance and composure conveyed by the different areas in this hotel, now extended with 17 marvellous suites.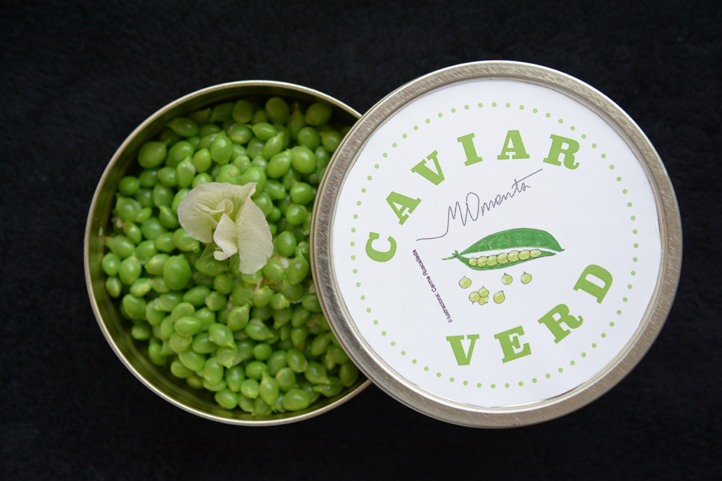 Today's reason for visiting the hotel is to enjoy, at first-hand, the "green caviar" from the Maresme region, which is how, in an epic phrase, Carme Ruscalleda has classified the peas from this area. And spring is the perfect time to savour them in all their splendour. And Moments, the restaurant she runs and which now has its second Michelin star, is just the right place to try them, at a tasting created especially for the season, with the incredibly special black caviar in the role of supporting actor.
Moments has a sedate, elegant dining room where the only daring note appears on the ceilings in the golden sculpted designs by Urquiola herself, as well as glass walls revealing a vertical garden that's now bursting into all kinds of green. But undoubtedly the most interesting thing is what I have in front of me: the restaurant's kitchen, open to the clients' eyes through a window tinged an intense lemon yellow. It's impossible to take your eyes off the frenetic activity of kitchen hands and chefs who, dressed in pure white, are working hard, concentrating on refining seasoning and decorating plates. Through my work I've visited countless kitchens and I must admit that it's one of my secret vices. Nothing compares with witnessing, in person, the concentration and magic experienced during the service of a restaurant of this category.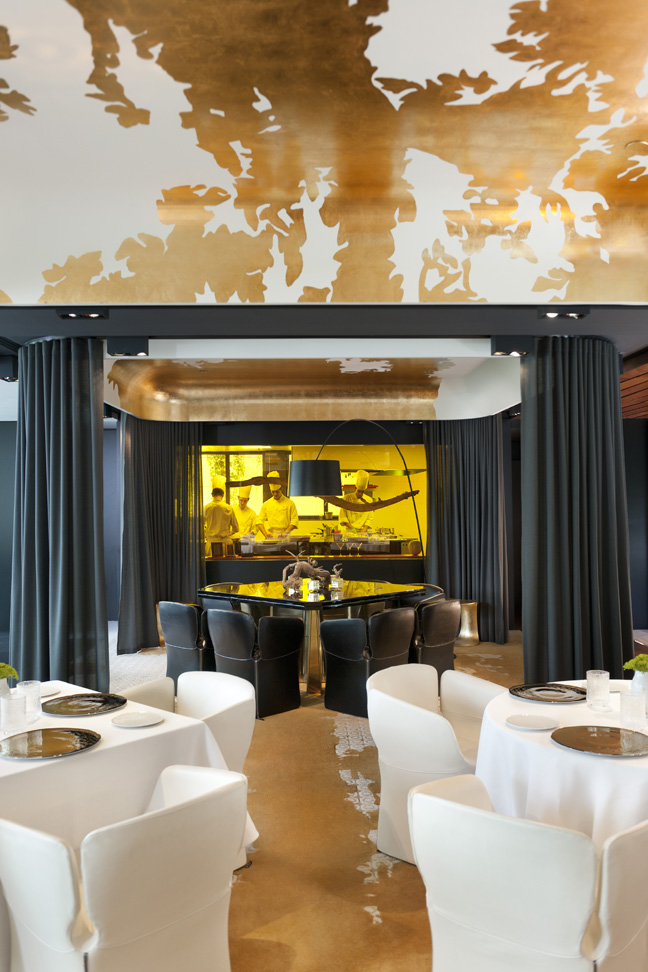 A pleasant surprise awaits me at the table: the menu I'm going to try is printed with my name (a courtesy of the restaurant towards anyone asking for a tasting menu) and specifying all the delights I'm going to savour. But it doesn't end here because, when I sit down, they also bring me another delicate handout with details, drawn and coloured by Carme Ruscalleda herself, of the aperitifs they're going to serve me and the divertissements they're going to offer me with the coffee. King prawn croquettes, spiced seed triangles, spinach fritters, a chocolate and mint "bomb" and mango and lime gumdrops cover this attractive card, skilfully drawn and with scintillating colours, which I slip into my bag as soon as the waiter turns his back.
After the aperitifs, delicate and exquisite in both flavour and presentation, the black caviar arrives, for once as a supporting act for the main dish. The brilliant pearls, the colour of anthracite, are lying caressed by a skin of tortilla and protected by bread perfumed with vodka. My palate plunges me into that symphony of flavours, all delicious and balanced.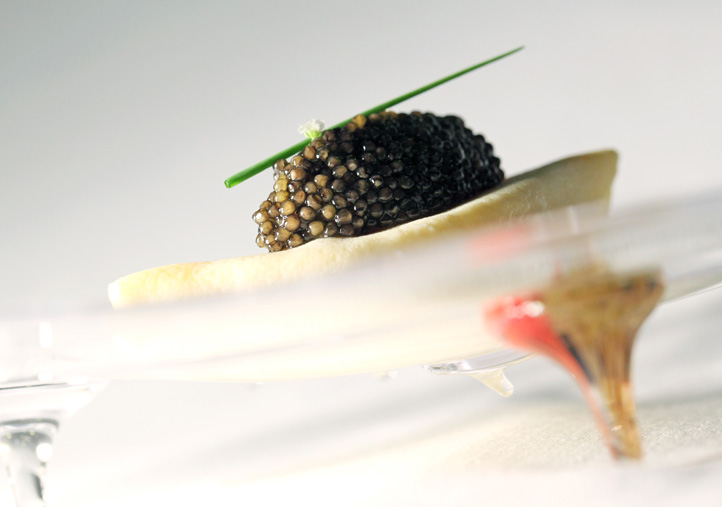 And, at last, the star of the menu, placed gently on a piece of grey slate. It's a small round tin with an interesting drawing by Carme Ruscalleda on the top, representing an open pod revealing its tempting fruits and, inside, the green caviar, with flower included. I stare at them and concentrate to breathe in their delicate aroma. I eat them straight from the tin, following the waiter's instructions, and realise they've been perfectly cooked. Just three minutes are enough to fill my mouth with their sweet, tender, juicy texture. I understand and agree with their classification as "green caviar" because, having the chance to savour them, chosen personally by Carme Ruscalleda and prepared and presented according to her wise instructions, makes the experience truly unique. I also know that peas are excellent protectors against cardiovascular disease as, being rich in soluble fibre, they help to reduce cholesterol and regulate blood sugar levels.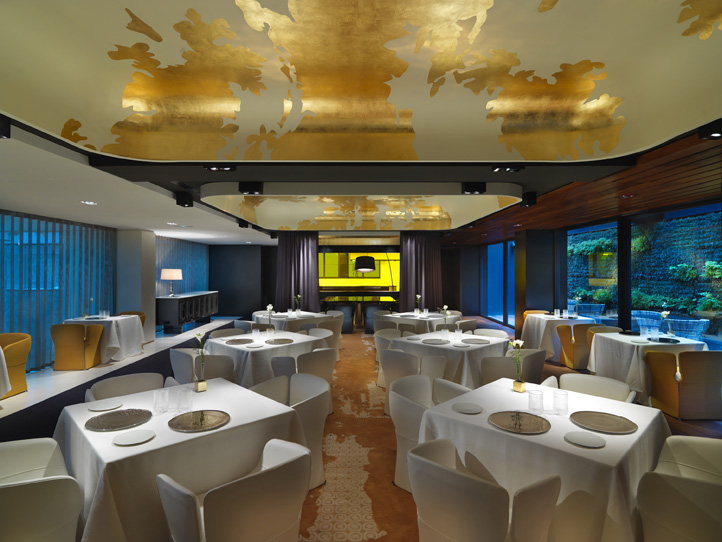 Afterwards come other delicious dishes, also decorated with the initials VGA (Valor de Gastronomía Antiaging or Anti-aging Gastronomy Value, recommended by Dr. Manuel Sánchez from Clínica Planas): monkfish swathed in artichokes and calçots and fillet of venison with pear, apple and almonds.
The final touch is provided by the dessert, a spectacular composition of different chocolates, a hazelnut, coffee and orujo foam that, with their elegant presentation, pay homage to the dining room's ceiling decorated in gold, with indescribable flavours and in perfect harmony with the menu. And, lastly, the entertaining and playful petits fours, accompanied by coffee. Gumdrops, macaroons, marshmallows, biscuits and chocolates all take me back to my childhood in the blink of an eye. It was undoubtedly worth it.