Eight & Bob was not only a revolutionary fragrance in the thirties, but it also disrupted the masculine codes established at the time. The distinctive aromatic plant from the Andes called "Andrea" enriches and brings elegance and personality to the essence.
When Albert Fouquet, son of an aristocratic Parisian, created the perfume nearly a century ago he never thought that his seductive story would be the perfect story line of a magnificent movie set in the years before World War II.
It was around 1937 when, one night during the French aristocrat's vacations on the Riviera, he met and connected with a young American student who toured France in a convertible. Incredible but true, it was John F. Kennedy! Only a few minutes after meeting a smug John F. Kennedy had been infatuated with the fragrance that Albert used. Thanks to Kennedy's sympathetic personality Albert was persuaded to leave a bottle of the fragrance for Kennedy in the hotel the next morning. He left it with a note that said: "In this bottle you will find the dose of French glamour that your American sympathy lacks."
After a holiday worthy of a young French high society man, Albert received a letter from his new American friend thanking him and telling him about the success that the fragrance had had among his friends: "Send me eight bottles… and if your production permits, another one for Bob."
The perfectionist spirit of the young Frenchman did not only include perfumes, but everything that surrounded him. He didn't send the order until Philippe, the family butler, found suitable bottles for the fragrance in a pharmacy in Paris. He ordered a few boxes of the bottle with the pattern of the shirt worn by John F. Kennedy when they met. Finally he sent the bottles and boxes labelled with John's friendly request: "Eight & Bob".
A few months later he began to receive letters from the U.S. with requests submitted by various directors, producers and Hollywood actors like Cary Grant and James Stewart. Everyone wanted "Eight & Bob" that they had discovered thanks to Kennedy.
Albert Fouquet had barely begun his conquest of American lands in the spring of 1939, when he died in a car accident in Biarritz, France. After this disaster, only Philippe could receive the requests, but not for long since the beginning of World War II forced him to abandon his work with the French aristocratic family.
In the last shipments Philippe hid the bottles in books carefully cut out by hand to prevent the Nazis confiscating the perfumes.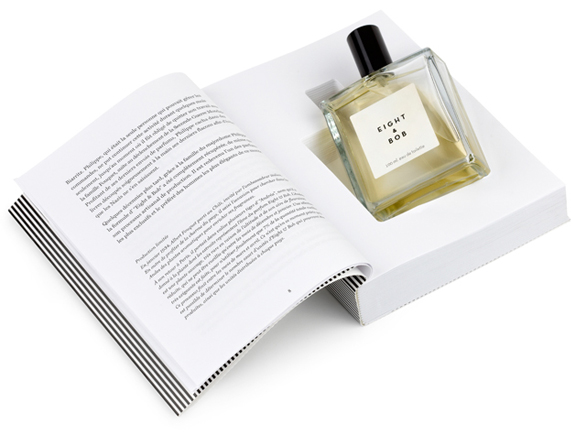 Decades later, thanks to the butler's family, the full formula of "Eight & Bob" as well as its delicate and traditional production process has been recovered. Once again it is one of the most exclusive fragrances preferred by the world's most elegant men.
Do not miss our New Arrivals FW11-12 at www.santaeulalia.com!