October 2009 was the month when Chiara Ferragni decided to share her outfits on her blog The Blonde Salad.
This beautiful 24 year old Italian, student at the prestigious Bocconi University of Milan, has managed to cross the boundaries and has been mentioned in the New York Times as one of the street-style stars of the year.
Soon, she was recognized as one of the greats fashion bloggers in the blogosphere, even outside of the fashion world. Chiara has realized collaborations with notable firms such as Guerlain, Dior, Furla, Woolrich, Grey Goose, Pennyblack, Tommy Hilfiger, Kenzo, Nikon, Mango, Polyvore, Louis Vuitton, Philipp Plein, Alberto Guardiani, Diego Dalla Palma, Easyjet, Hogan, Benetton, Seven For All Mankind, Lancome, etc.
Based on her own personal style with a touch of "made in Italy" she has created her own line of shoes under her own name "Chiara Ferragni" that is achieving great success in a little period of time.
In the following interview Chiara is going to reveal us both her style secrets and her enterprising facet.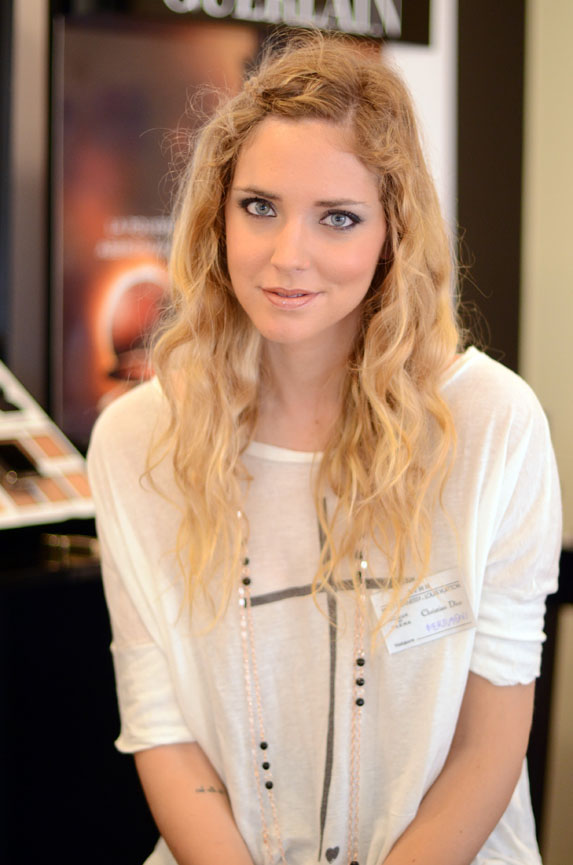 Where does your passion for fashion come from?
I've always loved fashion since I was really young, as I remember correct and It's all because my mother. She used to work for a fashion house in Milan.
How was The Blond Salad born?
I already used to have a profile on a photo sharing community called Flickr and since summer 2009 I started follow foreign fashion blogs. So basically started from there and from the need to have a more personal space, that I could use in my own personal way.
Why this name?
I was looking for something special, something that could explain who I am and my passions. This is how "The Blonde Salad" came out: it's a salad of my life, of my passions and it's blonde, like me!
Who is your head designer?
I don't have a favorite one, but I do love the work of some designers. I really appreciate Marc Jacob's work as a designer of his own lines and of course for Louis Vuitton. I do love Miuccia Prada work, I like Alberta Ferretti for doing such magical dresses and the way of Christopher Baley to make woman feel rock and glamour!
Your day outfit?
Usually I like beeing comfortable because I'm usually busy with appointments and meetings all day, but I do not give up heels even for a day outfit.
The perfect evening look?
It depends on the occasion, but normally high heels and a little dress.
Your fetish accessory?
The bag. A bag really can say a lot about a woman: who she really is, how she's like and her story.
What would you never wear?
Something that doesn't rapresent my style at all. With my job I have to be really carefull, cause people look what I wear. So I never wear something I don't like even if it's for work. For example I don't think long dress under the knee would fit my taste.
Flats or stilettos?
Both. They are perfect for different occasions: flats are usufull in rush days and stilettos are good for lazy dinners and evenings.
When and why did you decide to launch Chiara Ferragni, your own line of shoes?
It was a great oppurtunity that I had few months after I opened TheBlondeSalad.com. I was so excited to design the perfect shoes that would suit young women like me. Sometimes it's really hard to find the simple ankle boot or the open toe shoe, so I decided to design the perfect shoe for every occasion, of course from my point of view. And as italian I wanted them made in Italy, this is something really important to me.
Who would you like to see in a pair of Chiara Ferragni?
Olsen twins or Blake Lively, I do adore they're sense of style.
Who is your style icon?
Kate Moss.