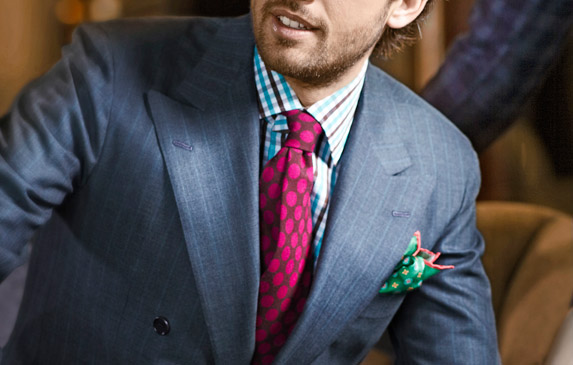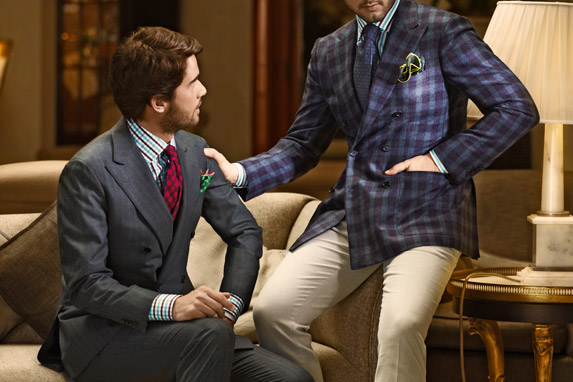 Kiton was founded 30 years ago by Ciro Paone and Antonio Carola and is situated on the outskirts of Naples. The love and passion for men's fashion together with a desire to produce a high quality traditionally made garment is the philosophy of Kiton.Where does the name Kiton come from? It owes its origin to the Greek word "chitone" which is a ceremonial robe the aristocrats wore in ancient Greece.
The pillars of the company are based on the old rules of Neapolitan tailoring. The company is considered to have "great traditional craftsmanship" rather than being an "industry", thanks to its 330 tailors that follow each garment through the whole production process.
The adventure of their suits starts with choosing the fabric. This choice is based on the theory of "The best of the best plus 1″, as Mr. Paone always likes to remind his employees. The fibres are all natural and produced by the best weaving mills in Italy, England and Scotland.
After purchasing the fabric the journey to the finished suit starts. The Master tailor chalks and cuts each suit individually. It is a journey that will last approximately 20 hours, where the tailor will be present throughout the whole process. That a lot of hours have been devoted is obvious when looking at the unstructured Neapolitan shoulder (something that strongly identifies Neapolitan tailoring) or when observing the ironing process, with the traditional 7 kilo iron. All that passionate work results in a unique work of art. A man, a suit, his own style.
To preserve the tradition, Ciro Paone created a Tailor´s School, where young people can learn and develop this art in future generations.
Complementing its traditional tailoring and following its philosophy, Kiton has developed wonderful handmade shirts and shoes, seven fold ties like the ones from Marinella as well as high quality sportswear. There is no doubt that the company is a leader not only in Neapolitan tailoring but worldwide.